Our Unique and Effective Process.
Phase I: Discovery
---
Our process begins with a simple conversation. At Estate and Retirement Resources, Inc., we do not work with everyone who walks through our doors. Instead, we first sit down with you and discuss your short and long-term goals. We also consider whether there is a genuine chemistry between us. Once we have decided that both of our needs align and the foundation of integrity and trust has been established, we begin the planning process.
Phase II: Strategy
---
We do not specialize in a "one size fits all" style of financial planning because we understand that each of our clients has a unique set of needs and objectives. Together with our nationwide network of financial and professional specialists, we develop a comprehensive plan tailored especially for you that outlines the strategy we recommend for long term success.
Phase III: Implementation
---
The primary objective of this phase is to successfully implement your long-term investment strategy. Through constant communication, our highly skilled staff makes this process as quick and easy for you as possible.
Phase IV: Monitoring & Adjusting
---
We know that as time passes and your circumstances change, your financial needs and goals will evolve. The plans we design are fluid and built to move with shifting global markets. We make any needed adjustments so that your financial plan is always serving your needs.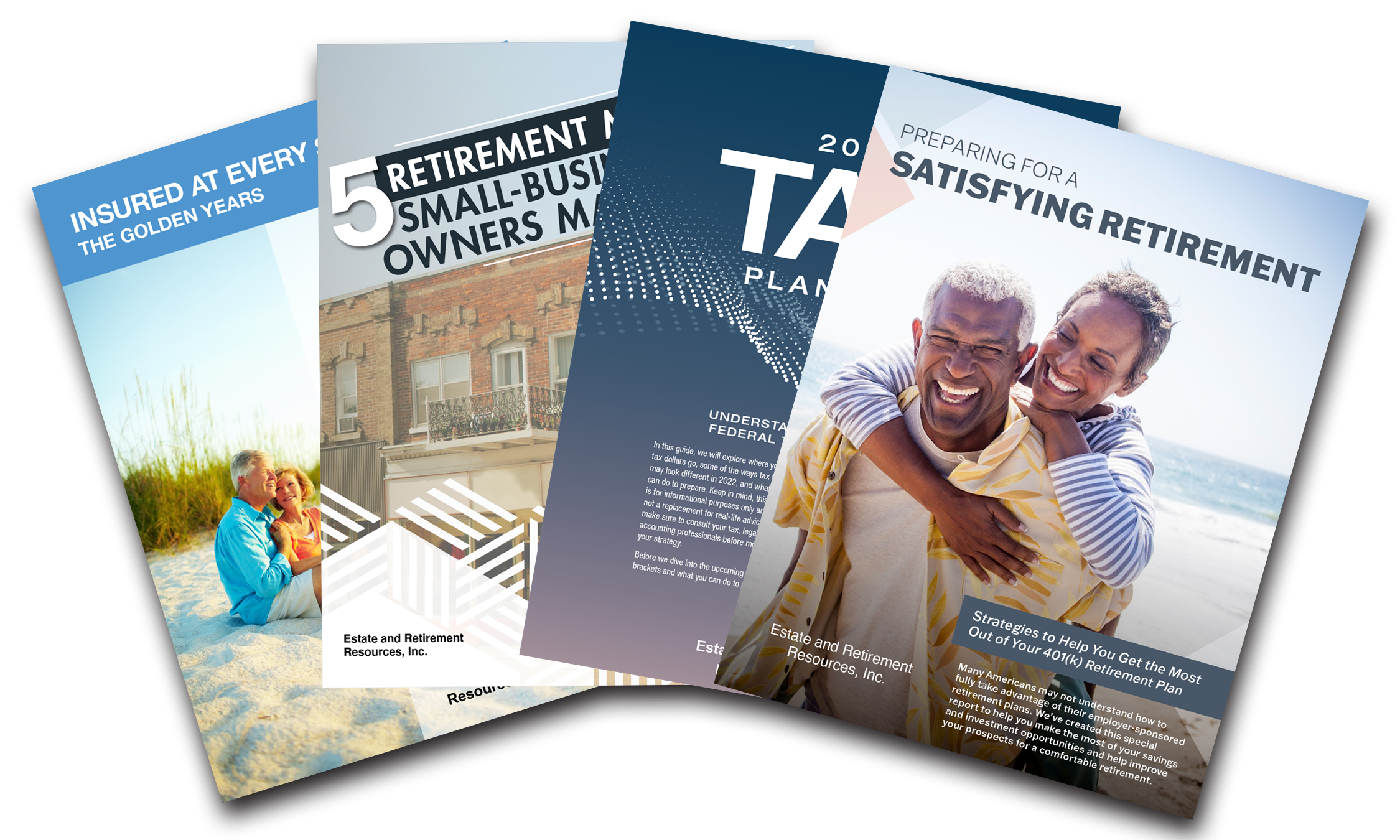 Download Our Latest Whitepapers:
& Prepare for a Satisfying Retirement
Click here to download any of our numerous white papers that can help you plan and work toward your Dream Retirement. Find out how many retirees and pre-retirees are saving and working toward a rewarding and fulfilling retirement.
• What you need to know to understand your 401k
• Why savings alone may not be enough for your retirement
• How 401k withdrawal options work
• How to plan properly for your Dream Retirement
• How to optimize Taxes in Retirement
… and so much more!
All rights reserved 2022. Estate and Retirement Resources, Inc. | Office: 352-732-8277 | Toll-Free: 877-732-2473